On July 3, 2017, yeah you know. Devsisters released yet another many of their monthly updates. This time, it brought in Orange Cookie, a Cookie from LINE/Kakao Cookie Run that reached game-breaker levels during its peak two years ago. Other features include Cheerleader Cookie's renewal, land renewal, new costumes and candies, and a small balance change.
Cheerleader Cookie's Memories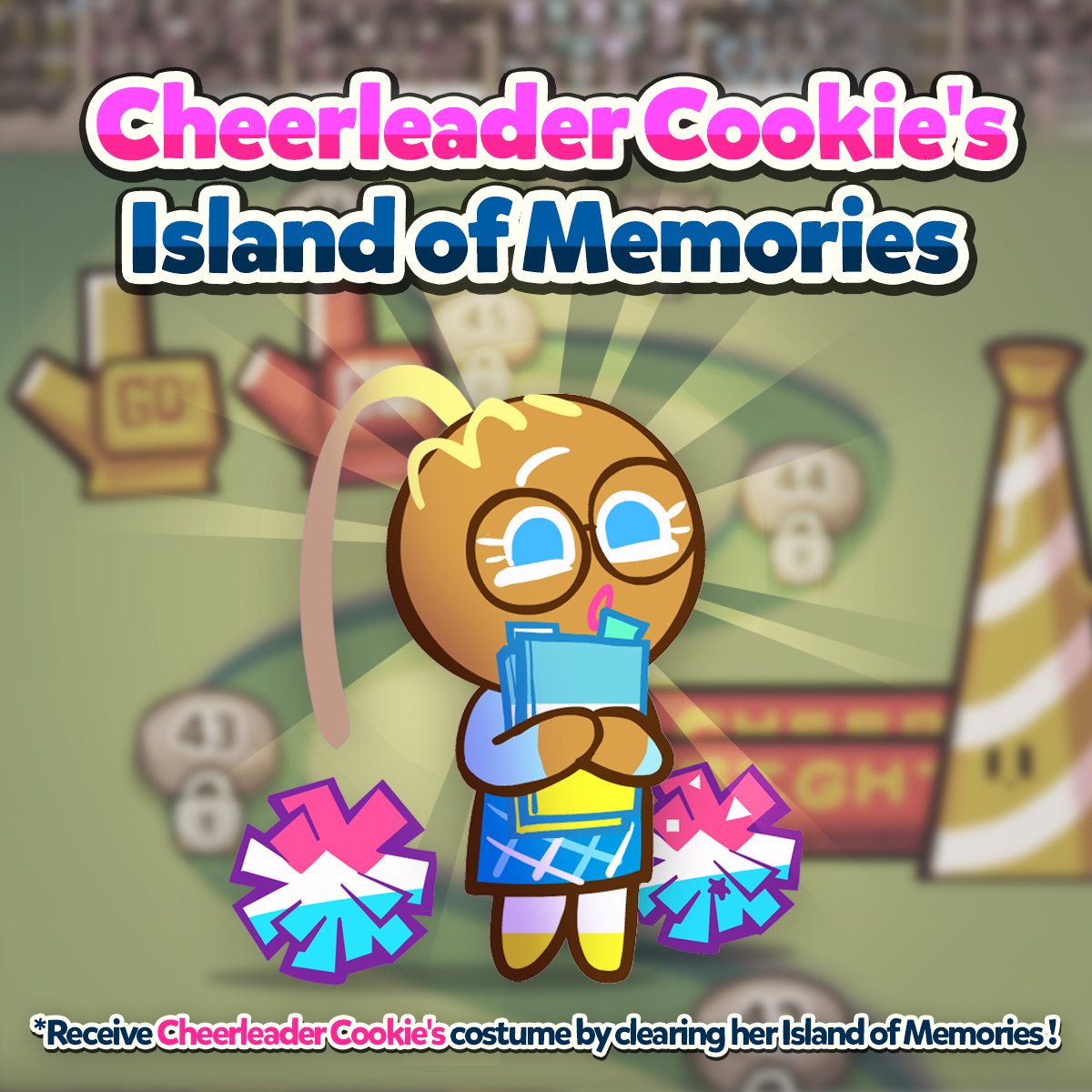 Twitter
Alongside Hero Cookie, Cheerleader Cookie's memories can be played again, but with a major renewal that brings in 55 unique levels—50 normal levels and 5 side boss levels—to create a Tower of Frozen Waves-esque gameplay style. The rewards for collecting each star are the same as that of Hero Cookie's memories; the only reward that has changed is the costume itself. That will be covered in the costumes section.
Judging from Hero Cookie's Memories, these set of levels are much harder than its levels. Complete with trampolines or cheering girls sending you up automatically and football players coming from the left or right side of the screen, the difficulty has significantly increased from the previous set of memories. Nonetheless, the range of difficulty can be a mixed bag; you might find a level that is lower than that of other levels around it. On the flip side, I find that the boss levels are much easier than that of Hero Cookie's boss levels. Once again, Winding Keys are required to play a level of Island of Memories.
If you have missed her previous costume, you can do so again this month. For instructions on how to do the Invitation Event, click here.
Orange Cookie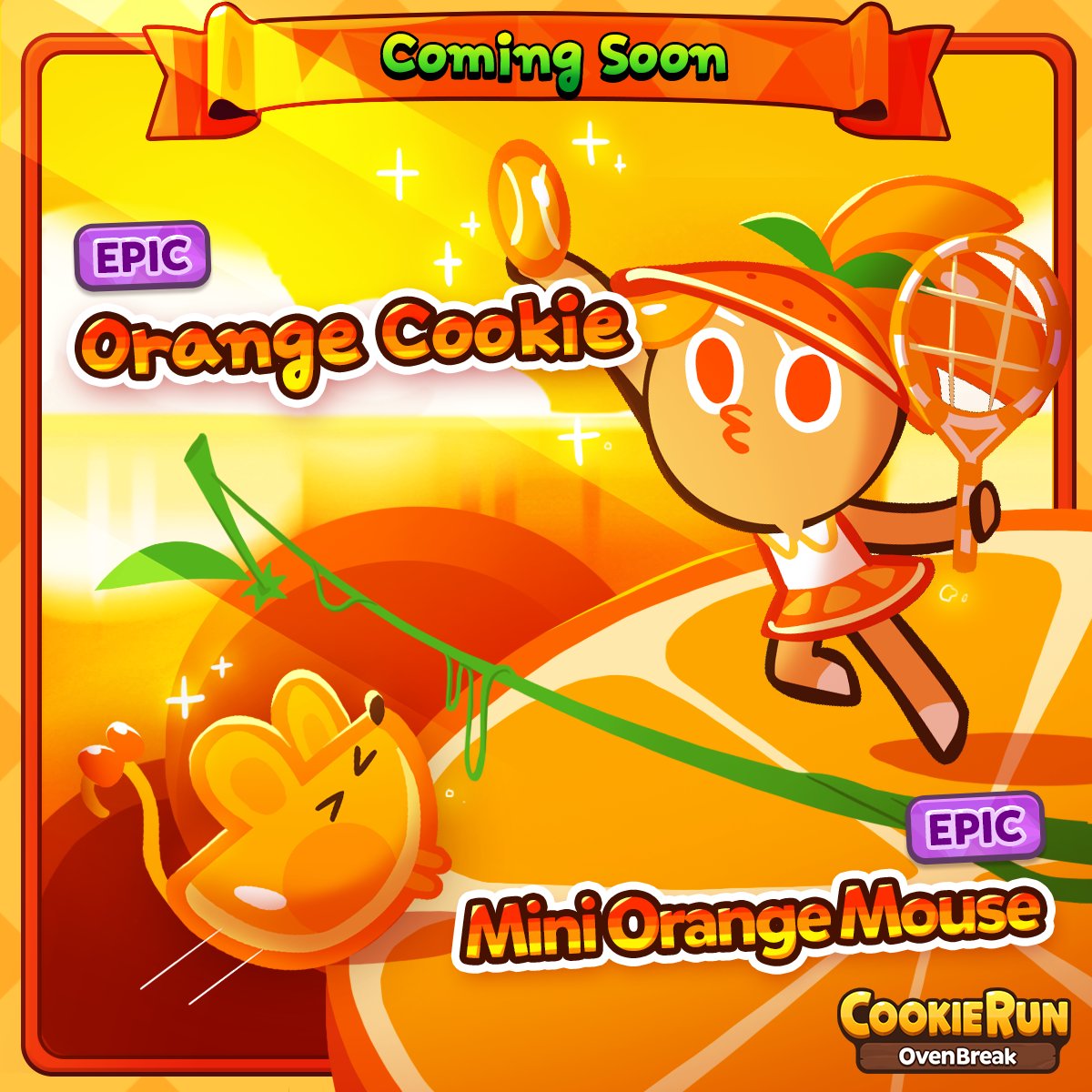 Twitter
Ignore the coming soon part; she is now available in the game.
Yet one of the many Cookies from LINE/Kakao Cookie Run to come to Ovenbreak, Orange Cookie is a Cookie that players should not miss. With control-changing mechanics, she will bring a fresh new look to the boring, dull backgrounds and obstacles of Land 7. Of course, not everyone would have experienced that land yet. She will not appear in chests until Land 2, which looks like a cheerful garden that Herb Cookie would want to reside in.
Her Pet, Mini Orange Mouse, provides speed bonuses while providing Blast Jellies at given intervals. Who said it wasn't perfect for Orange Cookie?
While the skill of the Pet has stayed the same, Orange Cookie's skill has been modified so that only one smash takes place, even when you press the "Smash" button (now replaced with a tennis racket), rather than several smashes.
Now I wonder… if Orange Cookie has been released, will the other citrus-flavored Cookies, Lemon Cookie and Lime Cookie, join in too?
New Costumes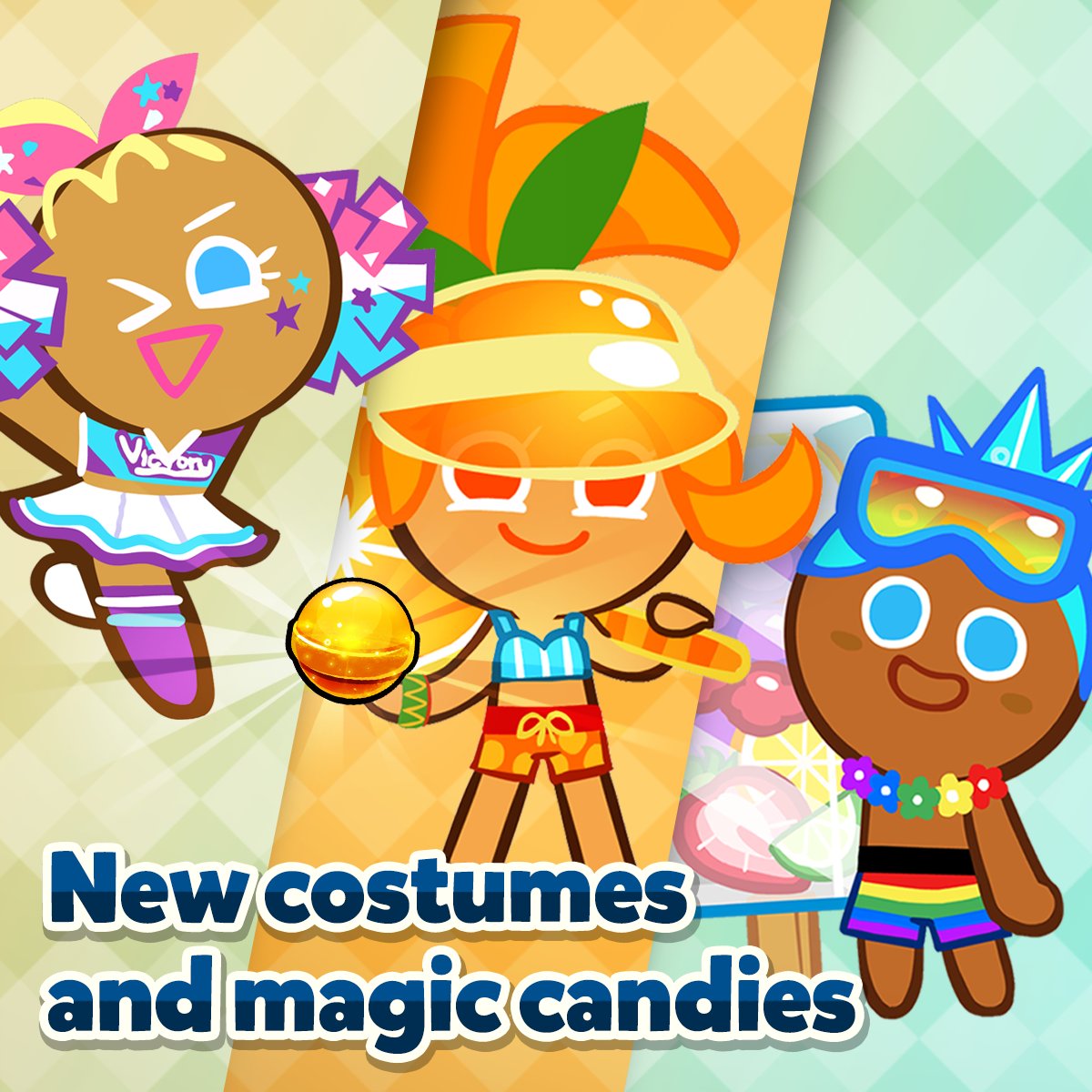 Twitter
What does a new Cookie mean? It means a new costume! Not only does Orange Cookie get her own costume, but Soda Cookie and Cheerleader Cookie, of course, also gets a costume! Cheerleader Cookie's costume can be obtained after collecting 150 stars in her memory, while Orange Cookie and Soda Cookie's costume from the Costume Shop at a current sale for 14 days.
Many people have commented about Soda Cookie's new costume, making assumptions that he is gay and supports LGBT+ rights according to his shorts. Here is one of them. What do you think?
New Magic Candies
With every new Cookie comes a Magic Candy! Besides Orange Cookie, Soda Cookie also gets a Magic Candy. For Orange Cookie, along with her smashes, she will enter a short Blast mode and earn more points for Orange Pulp Jellies. Level up to earn more points from it.
For Soda Cookie, he will create Soda Jellies along his path. After collecting a certain number of Soda Jellies, he will start surfing. Potions will still put his skill into effect. As you level up, you earn more points from Soda Jellies.
Land Renewal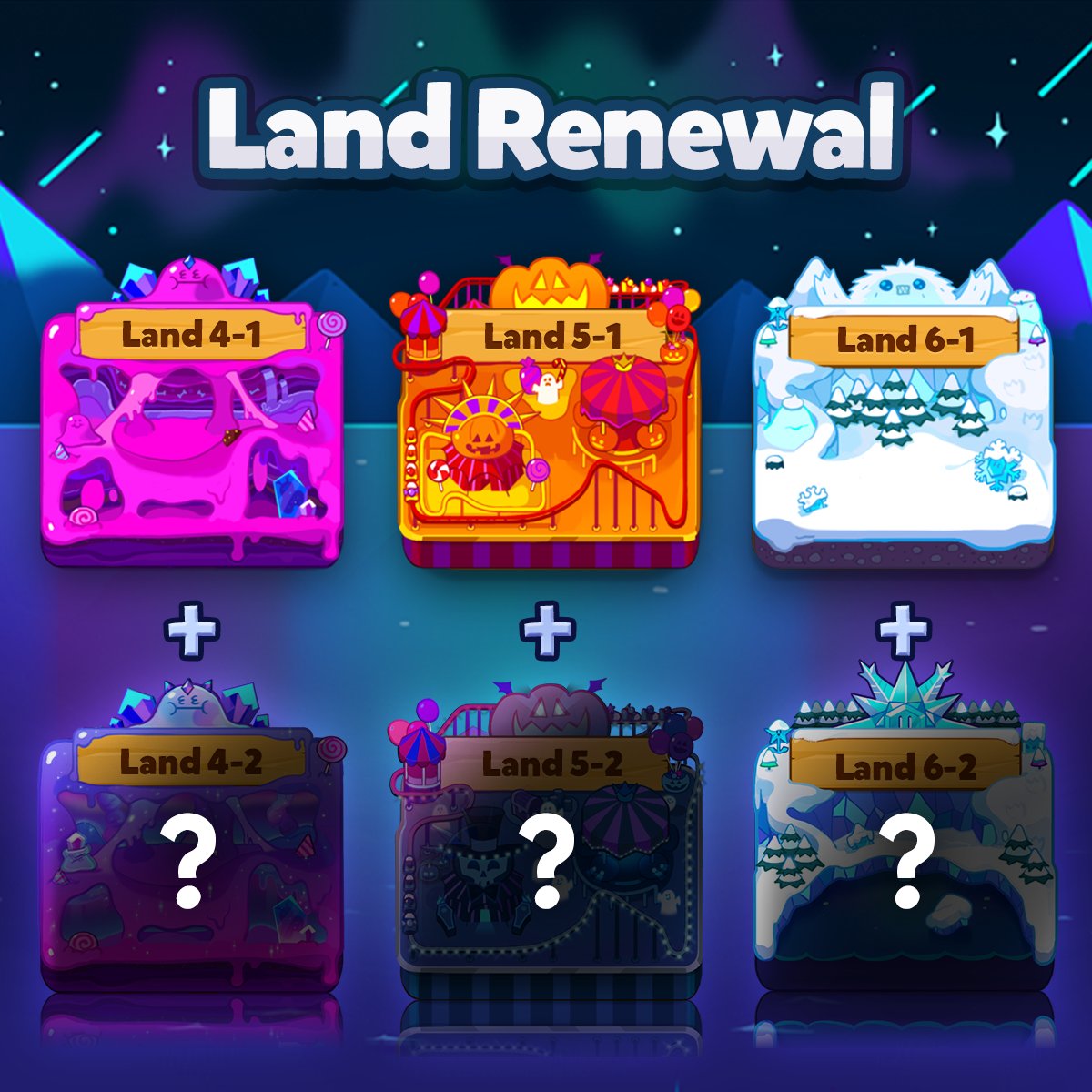 Twitter
You thought all lands were to be redesigned? Think again: the game is now splitting Lands 4 to 6 into two lands: Land 4-1 and 4-2, Land 5-1 and 5-2, and Land 6-1 and 6-2. With these split lands, the number of lands increases to 10, excluding Champions League.
While the lands might have not been experienced by veteran players, newer players might face an issue. Even though these lands were made to increase progress for players and were said to be easier than other lands, the difficulty of those levels are around the same level as that of league lands. Talk about trampolines everywhere!
The trophy requirements are as follows:
Land 4 (1,200-2,599 Trophies):

Land 4-1 (1,200-1,999 Trophies)
Land 4-2 (2,000-2,599 Trophies)

Land 5 (2,600-4,799 Trophies):

Land 5-1 (2,600-3,599 Trophies)
Land 5-2 (3,600-4,799 Trophies)

Land 6 (4,800-7,999 Trophies):

Land 6-1 (4,800-6,499 Trophies)
Land 6-2 (6,500-7,999 Trophies)
Attendance Rewards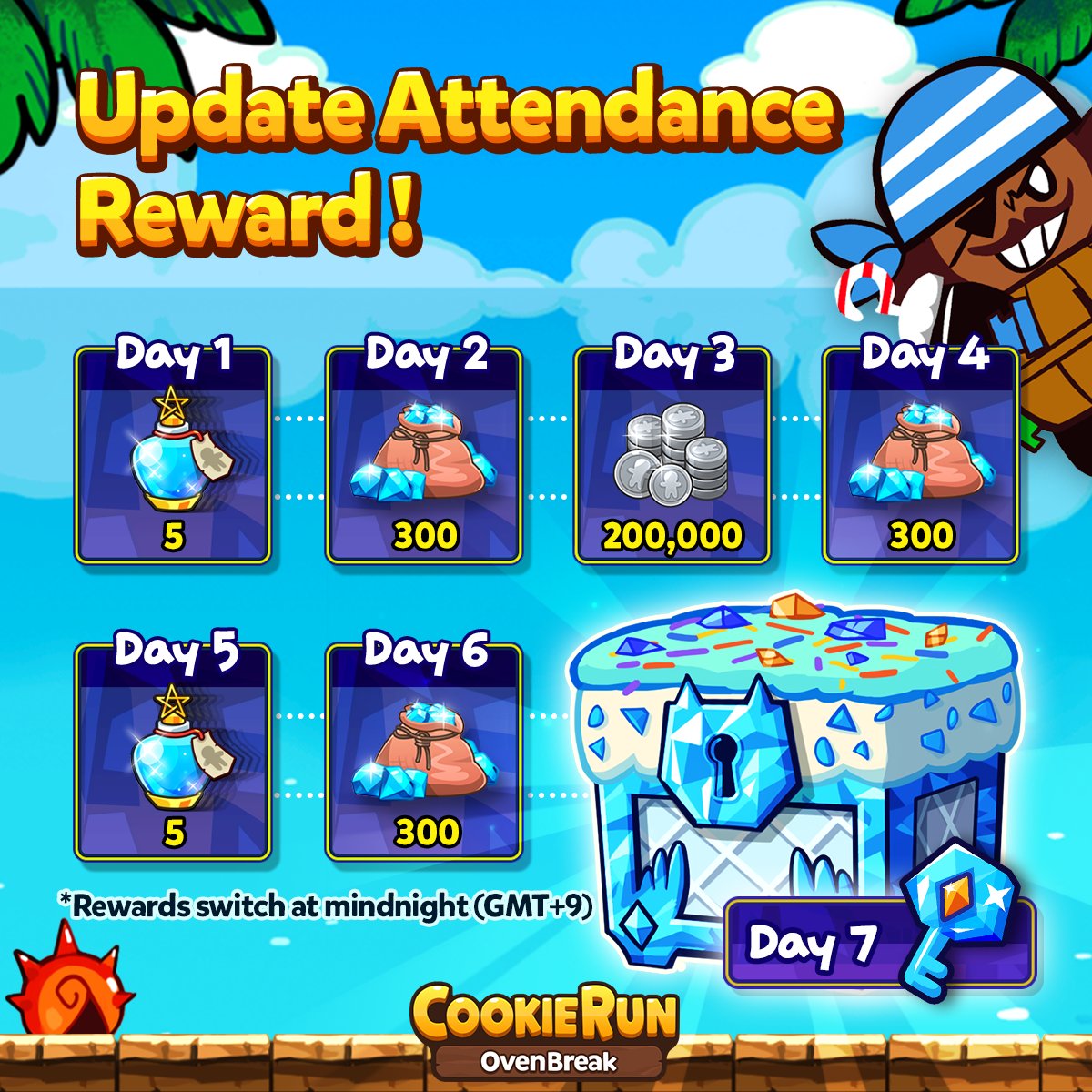 Twitter
What other way to release a new update than to give rewards to players each day? Each attendance reward is only given once per day, and unlike the previous attendance rewards, you do not miss the final big gift of the list; you can choose to claim the gifts however you want, but don't miss out on the Crystal rewards and the big Frozen Diamond Key at the end! Of course, if it were Rainbow Cubes instead, everyone would come running for it.
Balance Tweak
Soda Cookie gets to surf even longer by 0.5 seconds. That's it.
Conclusion
And so I leave you to this very important tip: if you really want to get those 3 stars in Island of Memories, take a break. Don't stress yourself in a single level. Move on. Once you come back to it a few hours later, you will feel more relaxed and content in getting those 3 stars you need.